Beautiful Summerfield's Farm Karaka is situated in a premium location only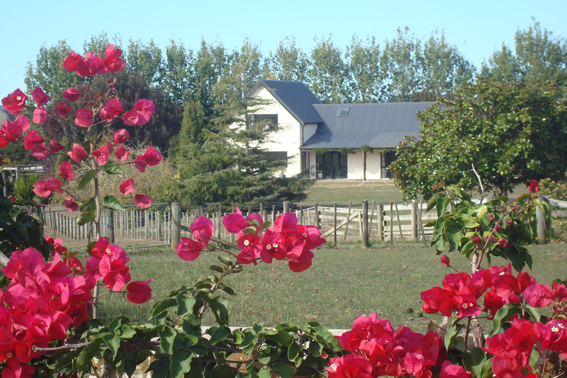 20min from Auckland International Airport  & 35min from Auckland City center. Summerfields gives you the best of both worlds, so close to everything yet so peaceful and therapeutic. Big breakfasts, pet animals, horse-riding ,harness driving and warm hospitality make our home worth while visiting.       
Our classic country home is on 40 acres in a park like setting, with a substantial olive grove and pleasant views over the rambling hills. Each window has a delightful outlook over the private gardens and hills. We love hosting families in the comfortable  two bedroom self contained family wing which offeres lots of space for families to relax in. An extra bunkroom ,second bathroom and library is available if more area is required but this must be prearranged on booking please.                                                                                    A portable cot ,dvds,games and lots of animals and lawn will keep those young ones happy.                                                                                                                                       You can remain private in your Family Wing cooking your own meals or have dinners with us if you choose.                                                                                     We have many horses for you to enjoy. If you would like to ride we offer various packages of either horse riding ,driving harness ponies or a bit of both. Please see our 'Farm Fun' page for activities.  It is a great experience for all ages.                                                                                                                         Please Note- All our Farm Stay groups are offered a 'Meet our Animals Tour' for free- but  you will need to be pre book a time please as we are a working farm.
Warm Regards
Marie Gordon
   


FAMILY WING  SELF CONTAINED 2 bedroom                                                                  $250 – per night for upto  4 people   Extra People  $25 each                                  Includes 'generous breakfasts'  and   'Meet our Animals Tour '                                        
Optional – Third Bedroom –  2 Bunks with second bathroom & lounge                        (Will cost extra and MUST BE BOOKED PLEASE )
Family Wing Includes        Portable Cot Available 
Bed Room 1                       (Deluxe –  2- 3  single beds )  
Bed Room 2                       (Loft – 3- 4 single  beds)
Private Lounge ,Courtyard and Entry ,  Kitchen & Laundry One large bathroom with shower and bath
Optional Extra (must be booked )  3rd bedroom  with 2 bunks, Lounge , Bathroom
MEALS    must be booked  before your arrival please.

Cook your own meals, or join us for a home-cooked evening meal          

Adults per person                                                                                                           $55pp Gourmet  2 course + wine & juice       Children $35
$30pp Simple & Nice 2 course + Juice           Children $20
We are pet friendly (conditions apply)